About the Author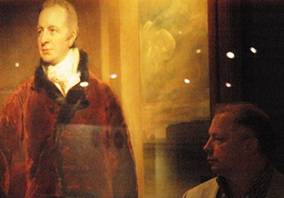 Nick Hibbert Steele standing beside the portrait of George Hibbert, painted by Sir Thomas Lawrence in 1811, hanging at the Museum of Docklands, West India Dock London.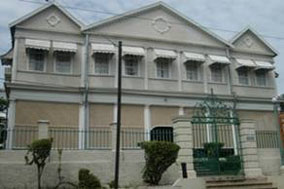 The author, Nick Hibbert Steele, was filmed by the BBC at Hibbert House, Kingston, Jamaica. Hibbert House is now known as Head Quarters House and is now home to the Jamaican National Trust.
Built in 1755 by Thomas Hibbert, as a result of a bet with 3 other merchants in Kingston, to see who could build the finest house. The prize was the hand in marriage of Teresia Constantia Phillips a notorious courtesan. Thomas Hibbert won the bet, but declined to marry Con. Phillips recognising her as a gold-digger.
The building is much altered from the original. In 2009 a James Hakewill watercolour of Hibbert House was discovered in a private collection in the U.K. This image is to be reproduced in the 'Atlas of Slavery' by Professor David Richardson and and David Eltis in 2010.
Headquarters House formerly Hibbert House Kingston, Jamaica